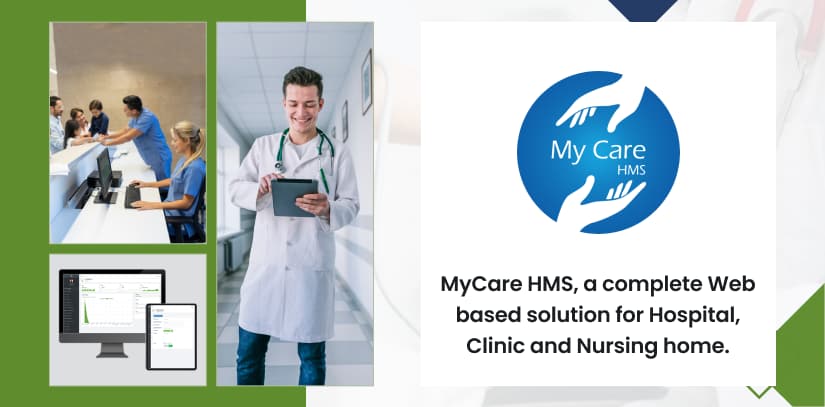 MyCare – Hospital Management System
March 9, 2022
3760 Views
0 Comments
MyCare is the leading E-healthcare platform now coming up with a Hospital Management system with 10 different entities who are associated and can manage and operate their roles themselves by individual login.
MyCare Hospital Management System brings together all the information and processes of a hospital, in a single platform. Medical specialists, patients, and hospital administrators can communicate, schedule appointments, and share information internally.
One of the biggest advantages of MyCare HMS is that it reduces the paperwork, overall cost reduction, and data security.  It also connects with MyCare Telemedicine Application for Doctors and Patients and Pharmacy Application to make the online Shop for the Pharmacy Stores.
Unique Offerings of MyCare Hospital Management System:
Roles in Hospital Management System
Hospital administrators are responsible for organizing and overseeing the health services and daily activities of a hospital or healthcare facility. The Super Admin's dashboard visual displays all the user role data. Super Admin has the authority to control the hospital system using MyCare's hospital management software, which they use to manage all of the hospital's processes.

Super Admin is responsible for updating all the new upcoming and ongoing intimations through the noticeboard module.
The hospital management system displays the available doctors in a hospital. Existing doctors and Super Admin can easily add new doctors.
Doctors have more time for examinations and patient engagement. In addition, all the needed information can be received online.
The patient-user role plays a crucial function in a hospital management system.  All medical records are kept secure and only accessible to those who have been granted access & can see their paid invoice.
The hospital management software provides an account management component that manages all the bills of a patient. It calculates invoices, makes payments and presents the billing reports of the patients marked as credited or debited. Multiple bank accounts or bank details can be added for better billing management.
Laboratorist has the authority to see the patient's prescription list & can add a new test investigation report of the patient & paid invoice of the laboratory. 
The primary responsibility of a nurse in a hospital is to take care of patients as well as to arrange/assign beds for them. MyCare hospital management system lets nurses do their job quickly on this digital platform to assign the beds to the patients as per their requirements.
Pharmacy management has the authority to see the patient's prescription list & can add a new medicine & define a new medicine category & paid invoice of the pharmacy.
Hospital's receptionist now can easily manage the details and information of doctors & patients. A receptionist can add new patients, doctors, can add appointments, paid invoices of the pharmacy, laboratory, consultation fees & check the scheduling details of the doctors.
If any users have any questions or queries about the hospital, they can walk up to the receptionist directly, and the receptionist will raise the same query in the system, which will be received by the admin as a query to answer.
Communication and coordination among personnel, automation of mundane operations, design of patient-centred workflows makes it special.

The case manager is in charge of the patient's case and arranges available nurses to the patient for treatment by doctor's consent and suggestions with relevant information on the patient's health and requirements.
MyCare Hospital Management System will take care of initial data entry, ongoing maintenance & management. By MyCare technical team, customize management has been provided as per the needs & requirements of hospitals. The Data Mapping technique is utilized to achieve the goal of EHR interoperability (Electronic Health Record). Data Mapping is a procedure that allows you to match data from one source to another. The source system can be one type of system, whereas the target system can be another type of system that contains the information in a different format. It allows for the meaningful interchange of patient data and other related information.
Common Features of Module
Each functionality of HMS contains common features like edit, delete, import, export & print.

We can provide customisable functionalities/modules for appointments, reminders, pharmacy delivery applications, payment gateway, printer, cash drawers, card swipe machines, and other integrations.
MyCare provides end-to-end assistance that scales from small clinics to large hospitals, including online doctor appointments, pharmacy and lab management systems and 24×7 functional and technical support.
Any Hospital, Clinic & Nursing home will benefit from the hospital system software. We are a software development & outsourcing firm with a strong commitment to finding the finest solutions for your business. MyCare with one year of software support, would gladly provide professional advice and help you find a solution.
Feel free to contact the MyCare team if you require assistance for the same.